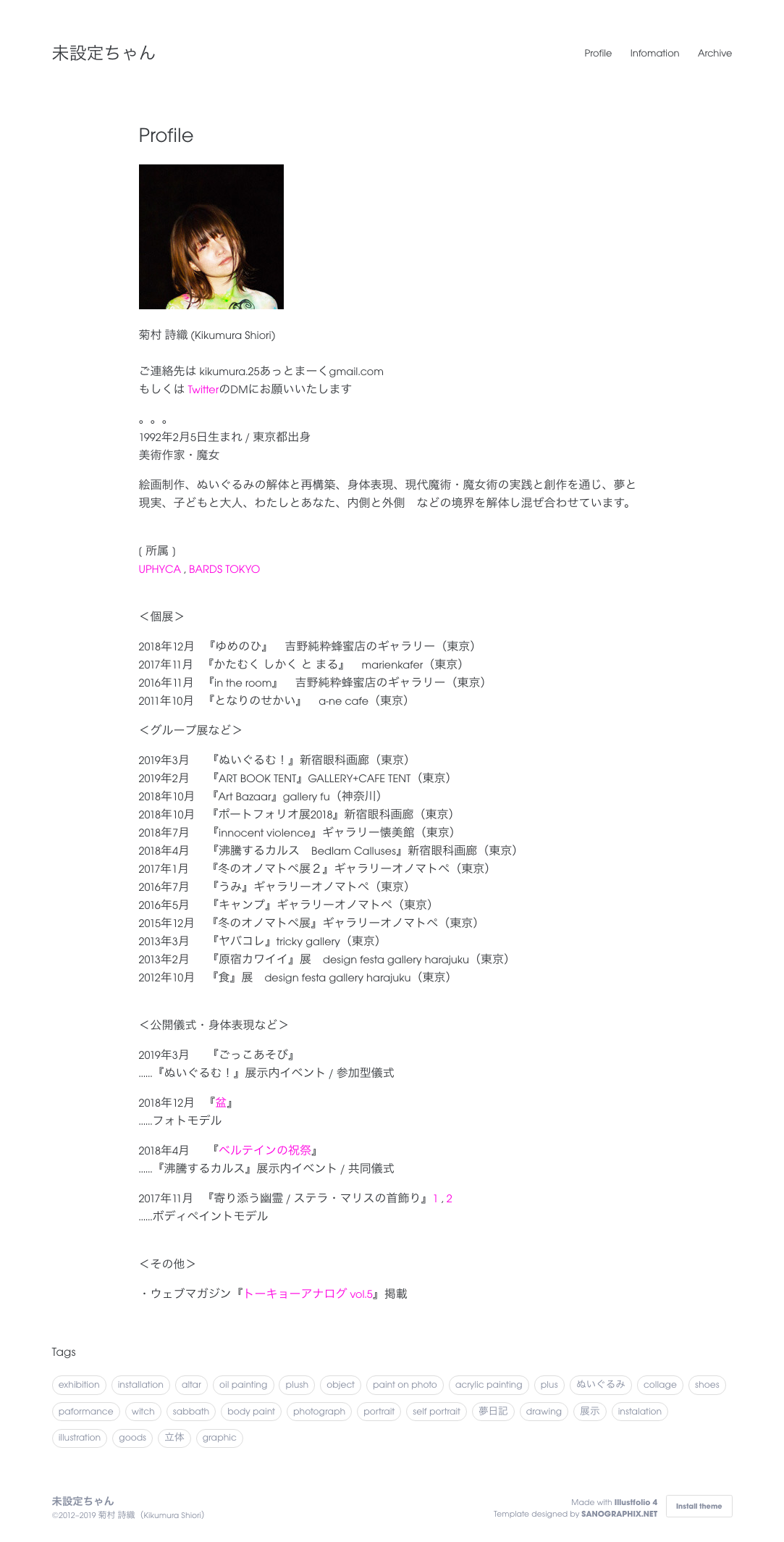 For all requests, please contact me via Email or Twitter's DM.
Artist,  Witch
Born 1992 FEB 5th, Tokyo, Japan. Lives and works in Tokyo.
I approach by a painting, stuffed animals anatomical breaking, reconstructing, performing, practicing and creating a modern contemporary magic and a witchcraft. Through that, I dismantle and blend boundaries between dream and reality, children and adults, me and you, inside and outside.
2018.12   『Day of Dream』 Yoshino Pure Honey Shop Gallery, Tokyo, Japan
2017.11   『tilting, square and circle』 marienkafer, Tokyo, Japan
2016.11   『in the room』 Yoshino Pure Honey Shop Gallery, Tokyo, Japan
2011.10   『My neighber SEKAI[the world]』 a-ne cafe, Tokyo, Japan
<グループ展など>Group Exhibitions
2019.3   『Nuigurumu!』Shinjuku Ganka Gallery, Tokyo, Japan
2019.2   『ART BOOK TENT』GALLERY+CAFE TENT, Tokyo, Japan
2018.10 『Art Bazaar』gallery fu, Kanagawa, Japan
2018.10 『Portfolio Exhibition 2018』Shinjuku Ganka Gallery, Tokyo, Japan
2018.7   『innocent violence』Gallery Natsumikan Daikanyama, Tokyo, Japan
2018.4   『Bedlam Calluses』Shinjuku Ganka Gallery, Tokyo, Japan
2017.1   『The 2nd Onomatopee in Winter Exhibition』Gallery Onomatopee, Tokyo, Japan
2016.7   『The sea』Gallery Onomatopee, Tokyo, Japan
2016.5   『Camp』Gallery Onomatopee, Tokyo, Japan
2015.12 『Onomatopee in Winter Exhibition』Gallery Onomatopee, Tokyo,
2013.3   『YABAKORE』tricky gallery, Tokyo, Japan
2013.2   『Harajuku-Kawaii』Exhibition, design festa gallery harajuku, Tokyo, Japan
2012.10 『A food』Exhibition,design festa gallery harajuku, Tokyo, Japan
<公開儀式・身体表現など>Public Ritual and Performance
……『Nuigurumu!』Event of the Exhibition / A participated Ritual
2018年12月   『Bon [the Buddhist Festival place in July]』
……『Bedlam Calluses』Event of the Exhibition / Collaborative Ritual